Start a New Career Path in Aviation
When you hear the words "aviation jobs" it may seem intimidating and exclusive to only people who attended aviation school. But the truth is far from it. Entry-level jobs in the aviation industry are in high demand and require nothing more than a little mechanical aptitude and the desire to learn.
We're hiring for a variety of beginner jobs in our facility in Bangor, Maine where we'll make sure you get on-job training to set you on a path of swift growth in this exciting industry. Perhaps you've worked on cars or have experience in construction and assembly. Or maybe you just like working with your hands and are interested in finding a more fulfilling and engaging career path.
Join a team of more than 200 maintenance, installation, sales, painting professionals, and more at a leading North American MRO. Learn more about working for C&L Aviation Group and explore current entry-level aviation jobs below.  
Our entry-level service technicians focus on aircraft interiors where they will first disassemble and then reinstall interior components using detailed guides and procedures.
Avionics are all about electronic systems like communication and navigation that are essential to the function of any aircraft. With training from our experienced avionics professionals, you'll be handling electrical components and wiring like a pro in no time.
In this position, you will be responsible for stripping down the paint and finish on existing aircraft parts that have been removed from an aircraft. From there you will also work to build them back with fresh paint and anticorrosion finishes.
In some ways painting an airplane is like painting a bedroom, most of the work is in the preparation and detail work. As an aircraft painter, your tasks will include chemical stripping, sanding, masking, taping, painting, finishing detail work, and buffing of aircraft as they receive new paint applications at our 20,000 Sq. Ft. paint facility.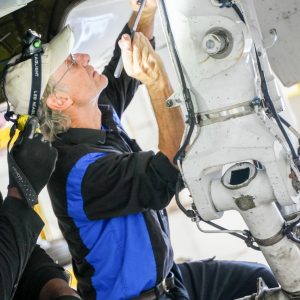 In this posistion, you will inspect, perform functional tests, troubleshoot, repair, and overhaul hydraulic aircraft components. No aviation experience is necessary but, the candidate must have strong knowledge and understanding of hydraulic actuators, pumps, and motors.
Are you currently working in the retail, food service, transportation, or shipping industry? C&L Aerospace, a C&L Aviation Group company, has a full-time position opening at their Bangor, ME office for a Warehouse Specialist to join our growing team. In this position you will enjoy a stable 8:30 AM to 5:00 PM, Monday thru Friday schedule with internal growth opportunities, educational opportunities, team and family activities, and personal skill development.        
Are You Looking for a Career?