C&L to perform interior reconfiguration, paint and more on Embraer 145 family aircraft.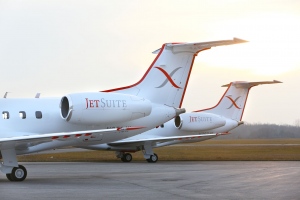 BANGOR, Maine – C&L Aviation Services (C&L), a C&L Aviation Group company, has signed an agreement with JetSuiteX, Inc. to provide interior aircraft refurbishment, engineering, and exterior paint services to convert multiple Embraer 145 family aircraft from standard regional aircraft to the luxurious 30 seat JetSuiteX brand interior and distinctive red and white exterior paint scheme. This includes new seat designs, upgrading interior panels, upgrading lavatories, installing LED lighting, Wi-Fi, electrical outlets, and more.
"We've been impressed with C&L's ability to organize a plan around our unique requirements, and their ability to do everything in one place to a high standard." Said Robert Hamel, JetSuiteX's Vice President of Maintenance. "We look forward to a long partnership with C&L."
In addition, the parties have signed an agreement for C&L to provide heavy maintenance, repair, and overhaul services for JetSuiteX's fleet of EMB 145 family aircraft with the first 2 aircraft already inducted.
"C&L is excited to be partnering with JetsuiteX as they continue to expand as one of the premier private aviation services in the United States," said Calvin Tuitt, Senior VP of Business Development MRO. "Due to our regional and corporate aircraft experience, C&L is one of the only facilities with the ability to accomplish a project like this."
***
C&L Aviation Group is an FAA and EASA approved industry leader in servicing, maintaining, and supporting operators in the corporate and regional aviation industry. In addition to aircraft and engine sales and leasing programs, C&L offers parts support, heavy maintenance, interior refurbishment, aircraft teardown, disassembly services, and aircraft management. C&L is headquartered in Bangor, Maine, with international offices in Australia and Europe. www.cla.aero.
JetSuiteX began offering public charter service in April 2016 with regular flights between select West Coast markets. JetsuiteX provides the speed and comfort associated with private jet travel but for the price of a traditional airline seat, including:
Flight departures from private jet terminals so the experience is faster and more comfortable, with no airport terminal delays, security lines, waiting for gates or long walks through terminals
30-seat regional jets, each with legroom comparable to domestic airlines' business class service
Free seat assignments, with power at every seat
A spacious, soundproofed cabin interior covered in soft leather
Free drinks and snacks, free checked baggage
JetSuiteX's luxuriously appointed E-135 jets can also be chartered for group trips, corporate events or other travel. For a custom quote, contact JetSuiteX at 800-IFlyJSX. For information, please visit www.JetSuiteX.com.