Positions Available
See our open Positions here
Looking for a change? We would love to talk to you about working here with us at C&L Aviation Group.
About us
We're not your typical MRO. We believe strongly that healthy wages and a happy work environment contribute to a better quality of life, and as such that quality is reflected in our work. At C&L, you're more than just a pair of hands. You're an integral part of our team and future growth plans. As such, there is an opportunity for you to improve and advance with our company.
You'll find Bangor, Maine is a great place to live and play. It's home to great schools and Universities, College sporting events, a vibrant nightlife and several exceptional event and concert venues.
A Better Relationship
Good employees don't leave jobs, they leave bad bosses. Our talented and trained leadership team cares about you, and your success at C&L. They stay engaged in you to make sure you're happy and achieving your goals and potential. They also manage by leading and working collaboratively with everyone. This atmosphere leads to happier employees, better work and a respected reputation with our customers.
A Bright Future 
It sounds cheesy, but we want your future to shine so bright that you need shades.  Here at C&L, we provide an atmosphere that fosters both personal and professional growth.  Our future here at C&L is bright too. In fact, our MRO company has been grown from roughly a dozen people in 2010 to now over 200 people. It's been a great ride so far and we plan to keep growing. We need your help to do that. Right now, we have hit a point where we are at capacity turning work away. Together, we can continue with our growth plans.

These are Full-Time Hourly Position and includes the following benefits:
Medical
Dental
Life Insurance
Long-Term and Short-Term Disability
401K
Want to know some of the reasons people move here and work for us? Watch these videos of just a few of our employees.
Interested in learning how we got here? Watch the video below which tells a little bit of our story.
About our CEO
Chris Kilgour  CEO of C&L Aviation Group has a passion for people. You see it each day at our facility. He comes to work every day with an energy and enthusiasm that can be seen, whether he is in his office or walking the floor of the MRO. Chris demonstrates care and concern for each employee that helps to make up our company and shows it through company lunches and parties, anniversary gifts, and other events he plans for the company. There isn't a person at C&L that Chris wouldn't sit down with to discuss their ideas, career and future dreams.
Chris attributes the success of C&L to outstanding customer service and a reputation for delivering on promises made – a philosophy he summarizes as "Good Parts. Happy People. Safe Landings."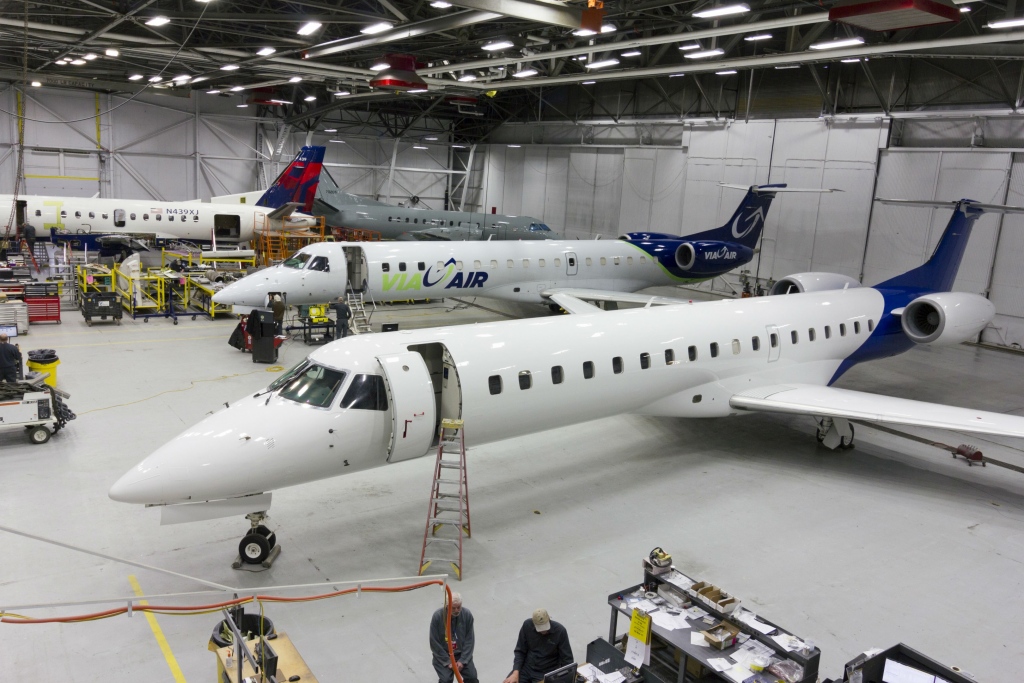 The Company
C&L Aviation Group was founded more than 20 years ago as an aircraft parts distributor servicing the regional airliner market. Today the company has expanded beyond its original location in Australia to become a global aviation services and aftermarket support provider focused on regional and corporate aircraft, with additional locations throughout the United States and Europe.
Headquartered in a state-of-the-art 140,000 square foot facility at Bangor International Airport in Maine, the company saves customers time and money by offering a one-stop-solution for sales, maintenance, avionics installations, interior refurbishments, exterior paint, component overhaul, and parts. Related services include corporate aircraft sales, charter and management.
C&L hires the hardest working, most knowledgeable people in their field, which has been the key to the company's exceptional growth. If you have an entrepreneurial spirit and drive to successfully accomplish goals in a fast-paced environment, C&L would like to get acquainted. C&L is an EOE/AA Company.
Giving Back
C&L believes in giving back to the community which has been so good to us here in Bangor, Maine. That's why we have created the "Making a Difference Program" which provides assistance to those in need. C&L is also heavily involved in programs related to the needs of children including Good Shepherd Food Bank of Maine, funding The Brewer, Maine Community Garden, Local "Shop with a Cop" programs and others.
Learn more about our company (and our sense of humor) with a few of our videos.
Like what you see? Check out a few more of our videos and get a sense of who we really are.